---
Where to Fish ?
Coarse Fishing Venues in Devon !!

For full fishery details, select a coarse fishing venue from the list below

---

Creedy lakes:
Crediton, Devon, EX17 4AB, England, UK
Set in peaceful, picturesque surroundings, these two 18th century spring-fed waters that make up Creedy Lakes offer some of the hardest fighting carp in Devon. Abundantly stocked with immaculate commons [to over 31lbs], mirror and koi carp, together with green and golden tench.
[Full fishery details]

Darracott Reservoir:
Torrington, Devon, England, UK
Darracott Reservoir offers coarse fishing in an attractive three acre water controlled by The South West Lakes Trust. Depths at this venue vary from only 3ft at the narrow end to nearly 27ft at the dam end. This venue is noted for its bream with fish to 6lb.
[Full fishery details]

Eastmoore Farm Fishery:
Totnes, Devon, TQ9 7PE, England, UK
Eastmoore Farm Fishery offers coarse fishing set in a beautiful Devonshire valley, about 4 miles away from the historic town of Totnes. The Lake is part of a working farm which is owned and run by the Bowden Family.The Lake was completed in June 2001.
[Full fishery details]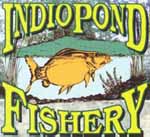 Indio Pond Fishery:
Bovey Tracey, Devon, TQ13 9DY, England, UK
A stay at Indio Pond in one of their lovely lakeside angler's lodges, just a few yards from the bankside, is probably as near to a fisherman's paradise as you can imagine or are likely to find anywhere. Set in 9 acres of beautiful Devon countryside.
[Full fishery details]

Milemead Fisheries:
Tavistock, Devon, PL19 8NP, England, UK
Milemead Fisheries consists of three lakes of about 2 acres each situated in an attractive valley only one mile from Tavistock. Two of the lakes are used for coarse fishing and the third is for trout fishing. A smaller body of water, known as The Canal, is also available.
[Full fishery details]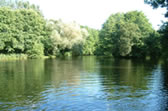 Millbrook Cottages:
Umberleigh, Devon, EX37 9BX, England, UK
There are 2 fully stocked lakes at Millbrook. There is one open lake which is stocked with mixed size trout for fly fishing as well as one very large lake that is stocked with various size tench and carp for coarse fishing.
[Full fishery details]