- Riverside Caravan & Camping Park -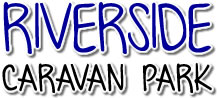 Riverside Caravan & Camping Park is a beautiful family owned park nestled on the foothills of Exmoor in Devon. It is situated near the market town of South Molton in 40 acres of flat meadow and woodland. The river Mole runs through the middle of the Park, away from the pitches, providing pleasant walks and sights for children to explore.



The park will provide areas for on-sight fishing, walkers, birdwatchers & botanists. Boasting excellent facilities, this is an ideal location for a fishing holiday in Devon and an ideal base to explore moors and beaches such as Croyde and Woolacombe.
Location:
Marsh Lane, North Molton Road, South Molton, North Devon, EX36 3HQ

Contact:
Phone: 01769 57926
Website: www.exmoorriverside.co.uk
Email: relax@exmoorriverside.co.uk

Fishing prices:
Specimen Lake

Beginners Lake

Day Ticket
Evening Ticket
Day Ticket
Evening Ticket
Adult

From £7.00

From £6.00

From £5.00

From £5.00

Juniors (under 16)

From £6.00

From £5.00

From £5.00

From £4.00

Senior citizens

From £6.00

From £5.00

From £5.00

From £4.00
Additional pricing Information:
Day ticket runs from 7am - 1/2hr before sunset
Evening ticket runs from 4pm - 1/2hr before sunset
24hr ticket from £13.00, 7AM - 7AM (2 rods)
12hr ticket from £9.00, 7AM - 7PM (2 rods)
Extra rods/ poles £3.00 each
12hrs/ 24hrs non fishing persons adults £5.00, under 16yrs £3.00
12hr ticket from £9.00, 7AM - 7PM (2 rods)
River fishing day ticket £5.00
Fishery rules:
RIVERSIDE CARAVAN PARK RESERVE THE RIGHT TO REFUSE ADMISSION AND ANYONE FOUND TO BE FLOUTING THESE RULES WILL BE ASKED TO LEAVE THE LAKES IMMEDIATLY. NO REFUNDS WILL BE GIVEN UNDER THESE CIRCUMSTANCES. ALCOHOL AT LAKESIDE IS NOT ALLOWED. IF YOU SEE AN INJURED FISH, PLEASE CONTACT THE BAILIFF.
Knotless landing nets, weigh sling and unhooking mat to be used at all times.
No fish to be kept in keepnets under any circumstances.
Return fish to the water as soon as possible after unhooking & weighing. Assist the fish in water to recover if possible.
Barbless hooks only - maximum size 6.
Minimum 15lb breaking strain line.
No bait boats or method feeding or live bait with the exception of worms & maggots.
No trout pellets or nuts to be used.
Poles are not allowed and maximum 2 rods per person.
Only moderate amounts of ground bait to be used.
A valid water authority rod license is required. There are regular checks by the bailiff and water authority inspectors. You must produce the license on request.
No fishing from lakeside to river.
No dogs on lakeside complex.
Children under the age of 16 must be accompanied by a responsible adult at all times as the lakes are very deep.
Please use the bins provided for all rubbish. Do not discard old hooks, line or rubbish on the bankside as it is harmful to the wildlife.
Do not leave any rods unattended at the lakes for any reason.
Please leave old groundbait on the banks for the wildlife. Do not discard into the lakes.
What's on offer:
Riverside Caravan & Camping Park offers all year round fishing on it's Specimen Carp and Coarse Fishing Lakes. These breathtaking lakes are nestled within 40 acres of picturesque countryside, providing the perfect setting for a relaxing days fishing.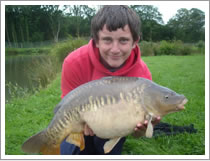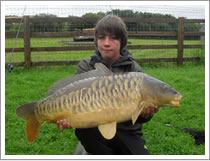 Kingfisher Lake

Magnificent, stunning new lake, more than 3 acres in size with depths varying from 4ft to 9ft with an immense variety of underwater features and stocked with specimen carp weighing from 15lb to 30lb.


Heron Lake

A stunning lake created with a wealth of features to challenge the professional angler. This lake is aproximately one acre in size with varying depths of 5ft - 11ft. The Heron Lake is abundantly stocked with specimen carp weighing from 20lbs plus, offering the complete fishing experience!
Dragon Fly Lake

An impressive lake, as with the Heron Lake, is situated near the river Mole. This lake aims to indulge the ambitous amateur, spanning approximately one acre in size and heavily stocked with Beam, Koi Carp, Tench, Carp and Perch. Great consideration has been taken with the development of this lake to provide quality fishing for the novice as well as the more competent fisherman.
Facilities:
Riverside Caravan & Camping Park and it's fishing lakes is a secluded level 40 acre site in a rural location set within a sun drenched valley with stunning views and a river running through. Meadow and woodland for walking the dogs. A luxurious heated shower and toilet block with free hot showers. All laundry facilities and baby changing area available. Within easy walking distance of the market town of South Molton and close to Exmoor National Park and the coast and superb golden beaches.

Facilities include ...
Children & pets welcome
Children's play area
Riverside woodland trail
Fishing on the park
Tea rooms
Barbeque & picnic tables
American Motor Homes (max length 40 feet)
Jumbo pitches for tents with and without electric
The Local Area
The North Devon countryside offers you spectacular views and a wealth of wildlife. This is real Devon with flourishing pastures, rolling hills, and winding lanes just waiting to be discovered along with tranquil villages and meandering river valleys.
For breath-taking scenery, Exmoor is only a 10 minute drive from the park and Dartmoor is only a 25.6 mile drive from the park. To visit South Molton and its attractive countryside with beautiful villages is perfect for you to explore. Take a step into an area overwhelmed with charm and interest where you can leave behind the hustle and bustle of modern day life.
North Devon Attractions – What's on and where to go
For more information about
Riverside Caravan & Camping Park visit their website:
www.exmoorriverside.co.uk


[Back To venues - Devon]