- Whelford Pools -






Location in South West:
Fairford, Gloucestershire, England.
Contact:

Tel: 01285 713 649 / 01285 711 339

Fax: 01285 711 680

Website:
www.whelfordpools.co.uk
Day Tickets:

adult day ticket £9 [7am till 9pm], junior [under12s] and OAP day ticket £5

adult, junior and OAP 24 ticket £17 [24hrs from arrival time]

adult, junior and OAP evening ticket £3 [5pm till 9pm]

all tickets are for two rods
Facilities:
Secure lit car park, toilets, shower and water. On site tackle and bait shop.
Best Baits:
Not available.
Getting There:
Whelford Pools is situated just off the A417 between Lechlade and Fairford. From the M4 junction 15, take the A419 Cirencester Road then take the A361 to Lechlade. Turn left here on to the A417 towards Fairford then left at the Shell garage. Whelford Pools is 1/4 mile down on the right handside.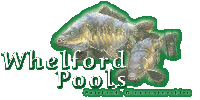 Whelford Pools is a family run day ticket water, situated in the South Cotswolds between the ancient Roman town of Cirencester and Lechlade on Thames, close to Swindon and the M4. Set in a beautiful picturesque location it is home to a wealth of large Mirror, Linear, Common and Leather Carp, Tench, Perch, Roach, Pike and Bream. Whelford Pools is noted as one of the top day ticket coarse fisheries in the country.

Day Ticket Lake: An established, mature lake extending to 4 acres, comprising 3 areas of water linked by 2 channels. There are about 45 swims - all of which can accommodate a Bivi with ease - some being double swims. The water is beautifully landscaped with trees and shrubs throughout. There are 2 islands and a wealth of surface features including reed beds, lily pads and rushes. The lake varies in depth from 3 feet to 8 feet containing numerous underwater features such as gravel bars and silty areas. The water is usually coloured. The approx 800 resident Ccarp vary in size from 12lb up to 29lb plus specimens; there are a great many at 20lb and over - the average size being 19lb. Fish are caught here nearly every day of the year with most anglers enjoying multiple catches. There are also pike weighing in at up to low 20lb's, perch to 3lb 8oz, roach to 2lb 9oz, specimen tench to 12lb and bream to 8lb.

Syndicate lake: A pretty 3 acre lake with depths to 12 feet, numerous features and an island. 120 approx carp up to 34lb with 3 known 30's and 65 known 20's. Open only to 25 members per year, no day tickets.

Whelford Pools also has a well stocked tackle and bait shop stocked with a huge range of the latest and greatest tackle, terminal tackle, bait, clothing, snacks, battery charging and pay phone. You can ring ahead and pre order your bait and tackle which will have be ready for you when you arrive.



barbless hooks only


no bent hooks


no Leadcore


no keepnets


no Beachcaster rigs




[Back To venues - Gloucestershire]