- Todber Manor -






Location in South West:
Todber Manor Farm, Todber, Sturminster Newton, Dorset. DT10 1JB. England
Contact:

Telephone / Fax 01258 820384

e-mail:
todbermanor@aol.com

website:
www.todbermanor.co.uk
Day Tickets:

adult day tickets cost £6.00 per day [dawn to dusk]

junior day tickets cost £4 [under 12s]

night tickets cost £12 [24hrs]

05/06 season tickets cost £70 [from April 1st]
Facilities:
Tackle shop, holiday accomodation.
Best Baits:
Not available.
Getting There:
See map on website.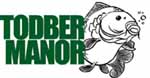 Five coarse fishing lakes make up the complex at Todber Manor which is situated in North Dorset. As well as coarse fishing, Todber Manor offers holiday accomodation and an on-site tackle shop which stocks a full range of tackle & accessories for the pleasure, specimen & match angler.

Specimen Lake: Opened early April 2004. It is approximately 2 acres in size with 7 wood chipped well spaced swims. Depths vary from 2-9ft. The lake holds 100+ carp with 90% being 10lb-29lb, with a good head around 17lb+ [no nuisance species, e.g bream and tench]

Top Lake: About 1 acre in size the Top lake has Carp between 3lb and 8lb with the odd bigger one to low doubles. Also present are Tench to 6lb, Roach, Rudd, Perch, Gudgeon and F1s.

Bottom Lake: About 1 acre in size it has a similar stocking to the top lake. The only difference is that the Carp are of a slightly smaller stamp. Also present in the Bottom lake are Barbel to 6lb.

Park Lake: 2 acres in size and has been designed in a canal style with 13m to the far side in all pegs. The Carp run from 8oz right through to 8lb, Tench to 4lb, Golden Tench to 6lb, Perch to 3lb, Barbel to 6lb. Also present are a decent head of silver fish including F1s, Skimmers and Roach.

Wadmill Lake: The biggest and newest of all the lakes Wadmill spans 4 acres with depths to 12ft. Carp from 8oz to 10lb, Perch 3lb, Tench, Roach and F1s. However the jewel in Wadmill's crown are its huge shoals of Bream, some of which have topped 7lb. As of October 1st 2005 Pike fishing will also start on Wadmill as there are a good number of them which run to just under 20lb.

Holiday Accomodation: Todber Manor's cottages have been converted from farm buildings and are set around a courtyard. Each cottage is self contained with a fully fitted kitchen including a full size cooker, microwave and a refrigerator with small freezer compartment. Each cottage has duvets and pillows provided. Linen and towels maybe hired for a small charge. The bathrooms have a bath. There is a separate laundry facility containing, washing machine and tumble dryer. Our cottages are available all year round and their heating and double glazing make them ideal for winter breaks.



night fishing by appointment only


barbless hooks only


carp and silver fish to be kept in seperate keepnets


no bream in keepnets


fishing from designated pegs only


under 12s to be accompanied by an adult

NB. If you are planning to fish the venue ring for the latest information. Todber Manor is often booked for competitions, but there are always lakes available for pleasure anglers.
Reader Feedback:
Spent a lovely weekend at Todber Lakes with some friends. Lovely accomodation, very clean and well catered for all age groups. Warm welcome on arrival. Recommended for nice peaceful break.
Wendy Symons - October 2007




[Back To venues - Dorset]