- Ringwood & District Anglers Association -
Contact:

Secretary: Peter Hutchinson
Tel:01425 489276
E-mail:
peterh@ringwoodfishing.co.uk

Membership Secretary:
Tel: 01202 871496

Postal Address [for applications]:
PO Box 6486, Ferndown, Dorset. BH22 2AZ

Website:
www.ringwoodfishing.co.uk
Membership:
Membership of the Ringwood & District Anglers Association is open to all. New members may join at any of the tackle shops listed on the website or may apply in writing to the membership secretary [address above]. A £20 one-off joing fee is applicable to all memberships.
Prices for the 2012/2013 season are:

Adult, £145.00

OAP/disabled, £93/£90

junior, £50

minor, £10

night permit, £35

Non Angling Guest, £10.00

third rod, £33

Ringwood & District Anglers Association
have access to almost 10 miles of the legendary Hampshire Avon and more than 20 miles of the Dorset Stour incorporating Throop Fishery, plus a choice of magnificent still waters including one of the top tench venues in the country.
The Club has been in existence for 50 years and has grown steadily from its humble beginning after the second world war. Over the years the club has gained control or access to some of the finest fisheries in the south, a fact highlighted by the regular appearance of club members with specimen fish in the angling press.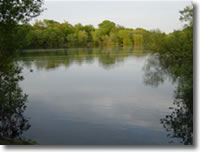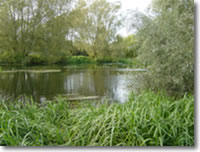 Ringwood & District Anglers Association are proud to provide a wide choice of primarily coarse fisheries, catering for all angling tastes, with many waters offering a very real chance of an exceptional specimen. The club is run by anglers, for the benefit of anglers, and this reflects in our regulations. Our excellent relationship with riparian owners has allowed us to negotiate many benefits including extended fishing times on the Avon and Stour, with night fishing on selected venues.
The club very progressive and the recent purchase of two of the finest lakes in the south [Hightown and Northfield] to add to other waters they already own is a major step in securing the clubs future.
Please check out Ringwood & District Anglers Association's other website:
www.throopfishery.co.uk
. Its well worth a look.

Winter 2005
: As part of the clubs on-going stocking programme, 500 crucians [6-8oz] were recently stocked into the wash Pit. There are also plans to stock 300 bream [2lb each] into the Wash Pit in early March.

Spring 2006
: Further stocking of Bream into Wash Pit and Hightown is now complete.

June 2006
: Members can now fish the famous 'Royalty' fishery on the Hampshire Avon.
Many thanks to Peter Hutchison for allowing Fish South West to use the pictures above

[Back To Clubs - Dorset]