- Keynsham Angling Association -
Contact:

Honorary Secretary. Jason Allen, 5 Elm Court, Keynsham, Bristol,
BS31 2RB, UK

Tel: 0778 898 1061

Website:
www.keynsham-angling.co.uk
Membership:
The annual subscription this season runs from 1st Jan 2006 - 31st December 2006. Keynsham Angling Association has an open membership policy - anyone can join without needing to be referred by another member. The annual K.A.A. licence allows members to fish the club's waters on the River Chew and River Avon without additional day ticket purchase. Membership can be obtained throughout the year at the shops listed on the web page.

Adult Membership - £14.00

Junior Membership [under 16] - £6.00

Senior Citizens - £6.00

Disabled Anglers - £6.00
Keynsham Angling Association
was founded on 2nd July 1903 after a conversation between a 'few local anglers' who decided an association should be formed amongst the many anglers of Keynsham. Membership was initially restricted to Keynsham residents.
They offer coarse fishing at three venues. Details are:

Century Ponds:
Keynsham Angling Association's main water is Century Ponds, situated at Stockwood Vale in Keynsham, Bristol. Two ponds can be found here in this quiet, rural, easy-to-access location.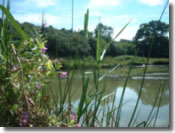 -
Century 'Old' Pond:
The Old pond, created in 1994, is a half-acre, spring-fed lake with depths ranging from 2 feet at the narrow end down to 8 feet at the dam, with one or two deeper holes to around 12 feet. It is home to a large stock of Carp to 25lb-plus, Perch to nearly 3lb, Bream to 4lb-plus, Roach well over 2lb, Rudd, Tench, Crucian Carp to 2lb-plus and one or two Chub, not forgetting a carpet of Gudgeon and a handful of Eels. The fish in both ponds can be tempted all year round to a variety of baits and techniques. Sweet corn, luncheon meat, bread, maggots, casters, worms and pellets will usually give good results, especially during the warmer months.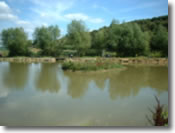 -
Century 'Island' Pond:
The newer Island pond, constructed in 2000, is a three-quarter acre pond with depths from 2 feet down to 8 feet at the dam end. It has a relatively flat bottom with sloping banks down to a meter-wide margin shelf at about 3 feet deep. The pond holds a good number of Carp averaging 5lb. Many [though not all] of the larger Carp have been moved to the Old pond in order to make way for the recent new stocks of 1,000 Crucian Carp and 400 Tench. Good numbers of Bream are also present following the stocking of 2 batches in 2002 and 2003, along with Roach, Rudd, Perch, Gudgeon and a small number of Chub and Eels.

River Chew: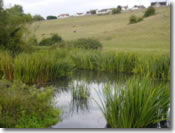 -
Chewton Keynsham to Keynsham [The Mill Ground]:
Commencing at the first field below Chewton Place (Hanover Conference Center) and extending north to the Albert Mill at Dapps Hill, Keynsham. Once the Club's main water, this colourful stretch of river is home to some wily Chub and Perch, plus a host of good Roach, Gudgeon, Dace and Trout. Expect the odd Bream, Grayling, Carp and Tench too. A challenging yet rewarding fishing venue set in the tranquility of the Chew Valley. Parking is available at the Albert Mill end.
-
Compton Dando [The Flume and Lyneham Orchard]:
Field 7 is the field below the road bridge at Compton Dando (the field with the flow-measuring flume). Further downstream on the same bank is Field 10, "Lyneham Orchard", which can be accessed via Field 7. This is a wilder stretch of the River Chew and is home to good numbers of fish including Chub, Roach, Dace, Perch, Gudgeon, Trout and Grayling. A peaceful roving water with good rewards on offer for determined anglers. Limited parking and main access is available at the Compton Dando end, near the bridge.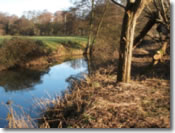 -
Chewton Keynsham [Chewton Meadow]:
Approximately half a mile of the River Chew from Uplands Bridge to Chewton Place. The Club recently re-acquired this field - work is currently being carried out to open up the swims, which could total in excess of 25. Another classic roving water with good numbers of fish including Chub, Roach, Dace, Perch, Gudgeon, Trout and Grayling. Slightly deeper on average compared to the Compton Dando fields, especially towards Chewton Place, with depths to 14ft in places.

River Avon:
Swineford Crane to Jack White's
- As part of the club's affiliation to the Bristol & West Federation of Anglers. Right Bank [looking downstream]: Towpath, one field below Willsbridge Brook [Jack White's] to Pipley Brook, Swineford [The Crane]. An excellent all-round venue teeming with Bream, Chub, Roach, Pike and a few good Barbel too. Excludes both banks at Keynsham Weir and scours, and the Picnic Area - left bank downstream from the main road bridge, which is a free stretch.
Many thanks to Jason Allen from Keynsham
AA for allowing use of the above pictures

[Back To Clubs - Avon]